Legionella / Legionnaires Thermometers & Probes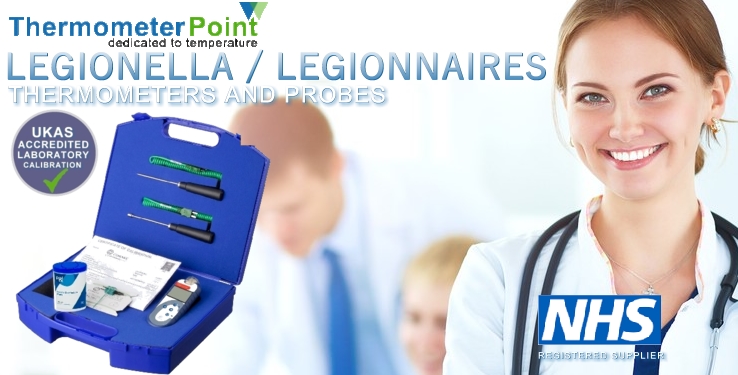 Legionella is a bacteria found in water that can cause Legionnaires' disease – a severe pneumonia infection – or Pontiac fever, also known as legionellosis, according to the CDC. An estimated 10,000 to 18,000 people are infected annually in the United States, according to the Legionella.org, but it is rarer in the UK, with most infections transmitted in travel, according the National Health Service.
The legionella bacterium spreads through inhalation of contaminated water droplets. It cannot be spread person to person and does not lead to infection in all cases of exposure. While it is found naturally in fresh water, exposure can cause illness. It grows best in warm water, particularly cooling towers used in air-conditioning units for large buildings.
Current legislation means that if you are the employer or person in control of premises, you must organise a risk assessment. The revised Approved Code of Practice (ACOP) issued by the Government's Health and Safety Executive (HSE) significantly extends the scope of its guidance on control of legionella bacteria in water.
The code now applies to all hot and cold water systems in the workplace regardless of their capacity, i.e. the lower limit of 300 litres previously used to exclude domestic systems no longer applies. Whilst domestic systems may represent a risk, the code only applies to risk arising from a work activity.
COVID-19 And Associated Legionella Risks
Global outbreaks of COVID-19 (Coronavirus) have resulted in the compulsory closure of a number of large buildings such as schools, universities, leisure facilities and office blocks at a scale previously not seen. Now, as these buildings start to re-open after the imposed lockdown, there is a genuine risk that they could have become a breeding ground for another infection – Legionnaires' disease (Legionella).
The long periods of inactivity in buildings, a result of the COVID-19 lockdown, has greatly increased the risk of the Legionella pneumophilia bacteria developing in large water tanks and pipework. The bacteria survives in the biofilm that gathers on pipe and tank surfaces and likes to feed on the sludge and sediment that builds up there. Legionnaires' disease, or Legionella as it is more commonly known, is caused by inhaling water droplets, via hot tubs, showers and heating systems that contain the bacteria infected water.
The coincidence of the easing of lockdown measures and the onset of warmer weather conditions has increased the potential for Legionnaires' outbreaks. The Legionella bacteria flourishes in warm conditions, as the optimum range for the bacteria is between 20-45°C (68-113°F).
For further information and Gorvermment advice on Legionella disease and testing please follow this link to the HSE (Health And Safety Executive) website.
Legionella / Legionnaires Calibration
All Legionella / Legionnaires thermometers and probes will require regular calibration, we currently have some great prices for this service with prices starting at £27.00 for a three point calibration on one probe.
Visit our CALIBRATION SERVICES PAGE for full details