KS20-S - High-Speed Dual Probe 115mm x 12mm - Surface & Immersion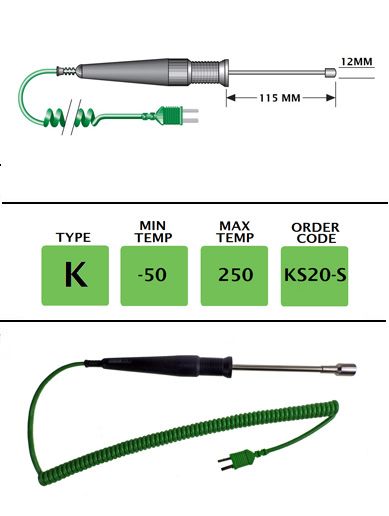 Description
KS20-S Dual Purpose probe designed for monitoring both surface and immersion temperatures. This probe features a 'crossed' ribbon sensor offering superior strength and speed when compared to a single band version.
Features
• Thermocouple Type - K
• Accuracy - Class I (±1.5°C ±0.25%)
• Measurement Range: -50 to 250°C
• Stem Length – 115mm
• Stem diameter at tip – 12mm
• Cable Length - 2 meters
• Plug Type - Moulded 2 pin
• A robust, entirely waterproof design for Legionella Water Monitoring.
Use
• Only requires light pressure to give a true reading
Note: This probe is suitable for smooth clean surfaces. If used on an uneven surface there is a risk that the band will be weakened and deformed.